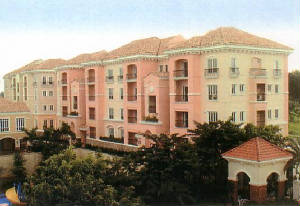 McKinley Garden Villas, the newest residential phase of
the 50-hectare McKinley Hill community. Classic, elegant
and designed to please the most discerning tastes.

An upscale Spanish - Mediterranean - style hideaway is
located in the city's most favored located surrounded with
scores of cosmopolitan conveniences.

Upscale city living life is yours to enjoy at the McKinley
Hill Garden Villas.

Lavish and exclusive. With only 20 units per building -
four on each floor - you experience total privacy,
exclusivity and an abundance of living space.

Warm are welcoming. Choose from a 100-square-meter-
two bedroom unit or 128-square meter three bedroom
home. Luxuriate in elegant bedroom, a modern kitchen
and a spacious living area. Keep connected -
and-updated- with Internet, cable TV and two telephone
lines readily available.

Cozy and convenient. Move with ease through the
elevator or wide staircase. And rest easy with
uninterrupted water and power supply, an automated fire
alarm system and an efficient, 24-hour security system.